DAN Offers On-Site
Neurological Assessment
for Divers Program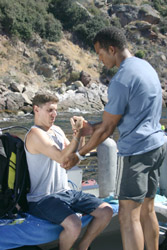 DAN has created an On-Site Neurological Assessment for Divers program to help divers recognize the warning signs of decompression illness and then activate emergency assistance. The program is especially designed for divemasters and instructors charged with the care of others. About two-thirds of divers with decompression illness have evidence of damage to the nervous system. Often vague, these signs can go unrecognized or can be dismissed as insignificant or not dive-related.
Understanding the signs and determining their severity are the critical steps to getting an injured diver into appropriate medical care. A thorough, effective, but simple neurological assessment will aid the treatment of divers involved in dive emergencies in the following ways:
Medical professionals and DAN medics will have a reliable system to judge the urgency of a dive emergency based on signs and symptoms reported by divers on the scene;

According to DAN Research, divers often delay oxygen first aid and definitive care by denying the existence of symptoms. The onsite neurological assessment may demonstrate to an injured diver and colleagues that a problem exists. Thus, the injured diver can receive quicker on-site treatment and definitive treatments.

Only medical professionals should diagnose medical conditions. Using the information gathered during the on-site neurological assessment, the dive physician will better understand the extent of the injury and how it has changed in the time it took to get the diver from the dive site to definitive care.
This is a video-driven program.